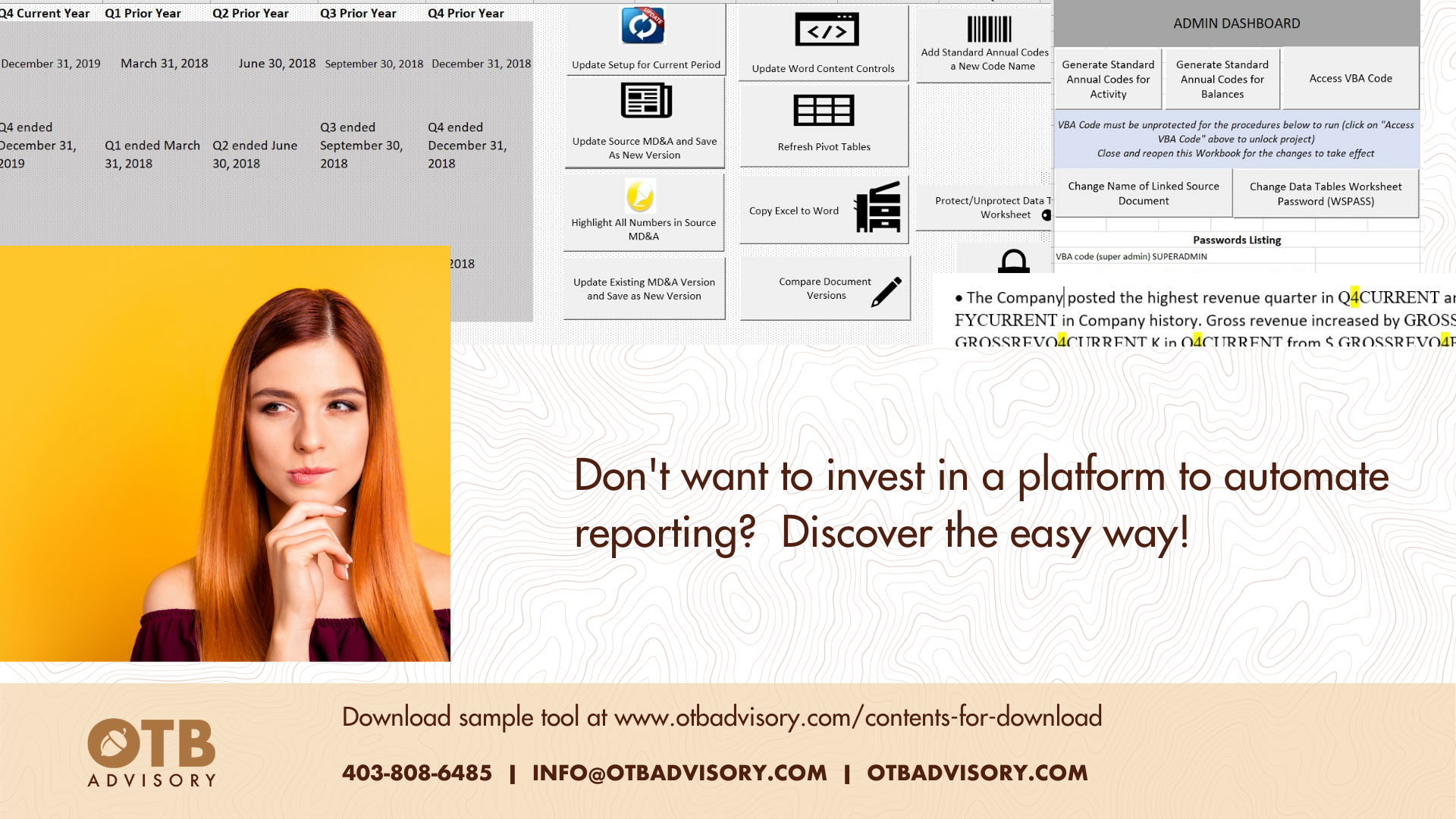 Do you use spreadsheets for reporting?  Do you manually check the numbers, adds and cross-adds, and populate the MD&A?  Would you rather spend time on strategy and mentoring people than making sure you don't find embarrassing errors in your prior quarter MD&A?  And you want to do this without making an ongoing investment in a reporting platform?  Then this solution is for you.  Discover the simple way to automate your reporting at: www.otbadvisory.com/contents-for-download.
Once the leadership team has agreed on the external KPIs and overall contents for external reporting, the main challenge becomes accuracy, collaboration and compliance with securities law/accounting rules.  As external reporting is usually concentrated in a single location and with a single team, you do not need to invest in a collaborative cloud or hybrid platform to optimize your process.  This is why OTB Advisory has developed a solution that minimizes your ongoing costs while eliminating virtually all the manual effort related to external reporting.
In real case studies, our tool saves 70% of manual effort and achieves 100% accuracy. It can be implemented remotely, does not involve annual maintenance or service fees, and clients get access to the code. However, no coding is required to use the tool and any company from small to large can build automation into all processes that use Excel and Word.
The tool uses robotic process automation techniques applied to highly structured, mature and repeatable processes. The more you use the tool the more you can automate. You don't have to do everything at once. Clients often start with automating their MD&A processes, then move to other external financial reporting (financial statements, AIF, information circulars, offering documents, etc.).
For internal reporting, insight, guidance and monitoring must occur in real-time, with clear communication and significant cross-functional collaboration.  We recommend that for mid-size to large organizations, internal reporting and FP&A processes utilize a reputable CPM/BI/RPA platform as such platforms allow for easy sharing of insight across the organization.   An example of such a platform is Jedox, which is a partner of OTB Advisory.
Take action before the 2019 annual reporting cycle: call Elena Bowes at 403-808-6485.